Kettop Fanless Mini Computer 8 *2.5G Lan, Mi4305L8 with 4305U 8th Gen Processor,HD Video port, DP, 4 USB 3.0 Mini PC 8 LANs
Buy mini pc| mini pc kettop-mi4305L8
Kettop Fanless Mini Computer 8 *2.5G Lan, Mi4305L8 with 4305U 8th Gen Processor,HD Video port, DP, 4 USB 3.0 Mini PC 8 LANs
Product Description
Intel Celeron Processor 4305U 2M Cache, 2.20 GHz TDP 15W Intel 8th Gen Processors

1 x 2133/2400MHz DDR4 SO-DIMM Socket (Up to 32G)


Support Msata SSD and 2.5 inch SATA3.0 SSD/HDD


8 x RJ-45 Port for Gigabit LAN


• Power on/off button

•

1 x Reset Button

•

4 x USB 3.0

Ports

•

1 x DC Jack

• 1 x HD Video,1 x DP

•

1 x RS-232 Port(RJ-45)

•

1 x Mini PCIe(Full-length for 4G, Half-length for Wi-Fi)

•

1 x M.2 for Wi-Fi (E key, 2230)

•

1 x GPIO 2.0 Pitch Header

•

1 x SIM Card Slot

•

1 x Automatically Boot 2.54 Pitch Header

•

1 x COMS Clear Jumper 2.54 Pitch Header

•

8 x Intel I225V 2.5G LAN




Support Windows 10, Linux, pfSense, etc
Firewall Appliance & Personal Computer
With 8x Intel I225V 2.5G LAN and Windows 10, Mi4305L8 can be configured as a firewall, LAN or WAN router, VPN appliance, DHCP Server, DNS Server, and so on.

With powerful Intel Celeron 4305U Processor, attaching a keyboard & monitor and reinstalling a Operating system and some softwares, it's your new personal computer, excellent POS terminal, mini server, etc.

Small, quiet and compact, running 24/7, Mi4305L8 is a good solution for home, office, factory and so on.
ADVANTAGE:Secure your network with a compact, fanless & silent firewall,More powerful than common router. Support for a larger number of terminals. Support Windows, Linux, pfSense, Sophos, VyOS, Linux iptables, Untangle, etc. Re-install OS by yourself.
Wide application: Running 24/7. Apply to Small Office Home Office (SOHO) internet access, home labs, virtual offices, SMB, Branch Office, remote worker locations, etc.
Operating System
Mini PC Mi4305L8 supports Windows 10, Linux, pfSense, CentOS, Sophos, OPNsense, VyOS, Linux iptables, Untangle, etc.

It will come with Windows 10 for test, please reinstall OS by yourself. F11 key boot from USB Drive. Delete key enter BIOS.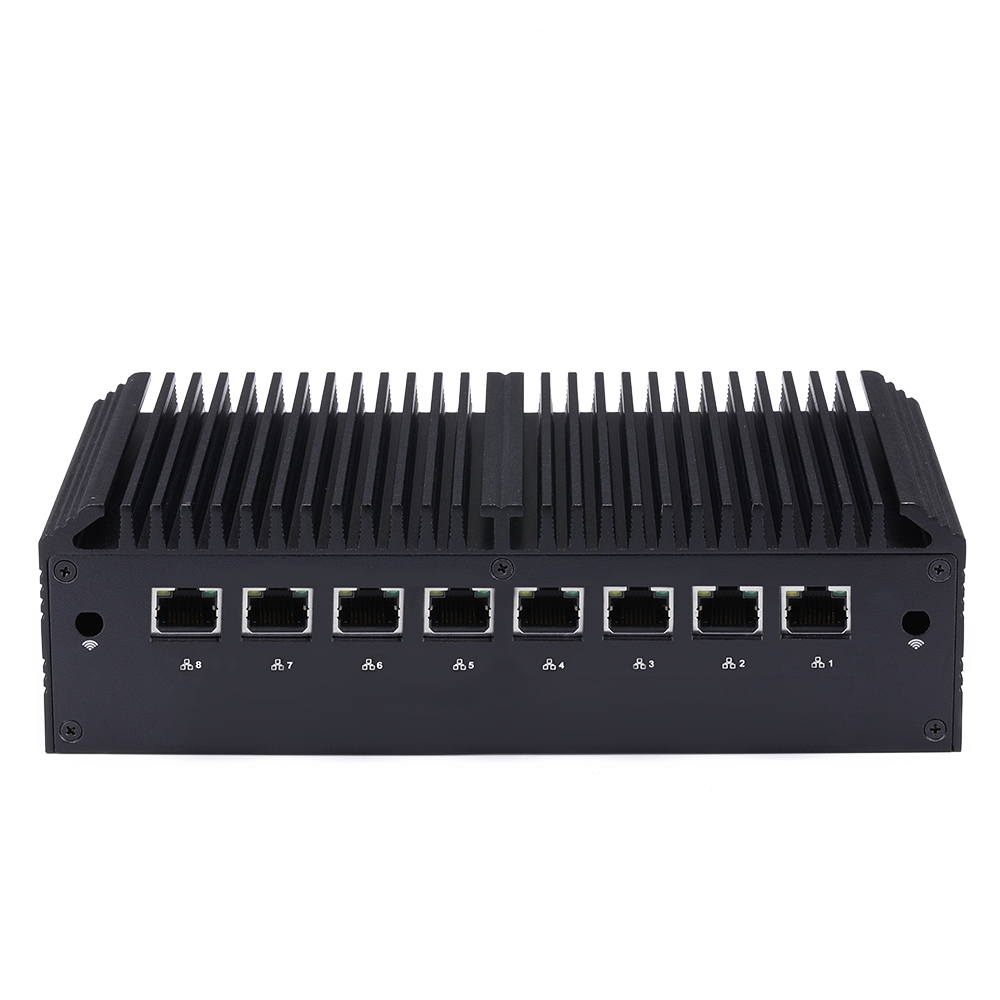 Intel Cereon 4305U Processor Onboard
Product Collection: Intel Cereon Processors

Code Name: formerly Whiskey Lake

2 Cores, 2 Threads

Processor Base Frequency: 2.2 GHz

Cache: 2 MB

TDP: 15 W

Processor Graphics: Intel UHD Graphics for 8th Generation Intel Processors

Intel AES New Instructions: Yes
Memory
1 x Memory slot for DDR4L SO-DIMM

Max: 32GB

Do not support ECC memory
Storage
1 x full mini PCI-E slot for mSATA SSD

1 x SATA connector for 2.5" SATA SSD/ HDD

Come with mSATA SSD & SATA cable by default
Wi-Fi
1 x Mini PCIe Full-length for 4G, Half-length for Wi-Fi Only Support USB Device.

M.2 for Wi-Fi (E key, 2230)
Warranty:
1.For all the mini pcs you bought from us, we provide a full two-year warranty.

2.We assure you that all the mini pc and accessories have been tested before delivery.
3.If the products do not work well, contact us, pls! We will try to figure out workable solutions with our professional team.
Packing
1 x Mini PC

1 x Power supply (adapter & US cord)

1 x VESA bracket

2 x Antennas (If Buyer choose Wi-Fi)

Some screws for SATA & VESA

Netural box by default
Tags: buy cereon pfsense mini pc, cereon mini pc kettop-mi3867L8, mini pc computer aes-ni, latest design pfsense mini pc, cheap pfsense mini pc gigabit nic
Kettop technology with strong independent R & D capabilities that focused on the production and sales of Fanless Mini PC j1900 , wholesale Firewall Router Mini PC , Kettop I7 Mini PC , etc at a reasonable price.
Type:

Mini PC
Brand:

Kettop
Model Number:

Mi4305L8
Size:

220*128*62mm(L*H*W)
Color:

Black
Graphics Card Type:

Integrated Card
Processor Model:

Cereon 4305U
Memory:

1 x DDR4 SO-DIMM Socket (Up to 32G, 2133/2400MHz)
Hard Disk:

Support SSD ( MSATA / SATA) and HDD (2.5 inch SATA HDD )
Processor Main Frequency:

2.2GHz
Power Consumption:

15W
Place of Origin:

China
Warranty:

2 Year

Your cart is currently empty.